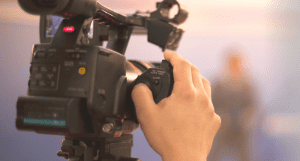 Video advertising, such as television commercials, is one of the most effective ways to spread your firm's message to a wide audience. Most often, videos are spread through a law firm's website, video sharing sites like YouTube, or on TV. Professional video production usually comes in two forms: on-site and off-site. This article will provide an overview of the differences between on-site and off-site video production, as well as the benefits and disadvantages of each.
On–site video production
The biggest benefit of on-site video production is its contribution to your overall branding efforts. On-site videos are produced at the law firm's offices, at a courthouse, or at a press conference, giving exposure to the firm's staff and locations, which helps potential clients feel more comfortable with a firm or practice.
Often, partners at the firm will be featured in the video to provide a personal message or present themselves as the spokespeople for the firm. Other times, on-site videos include testimonials from actual clients or actor portrayals of clients. On-site video production may include the voices of actual staff and clients, actors, voiceovers, or any combination of the above. These "real" audio and visual elements allow potential consumers to not only learn about your practice areas, but also create an emotional connection between individual consumers and the firm (this can turn cold leads into warm leads every time a video is viewed).
Although filming is done on-site, most of the editing is done off-site. Off-site, producers will cut, edit, and compile the footage taken at the firm's location. Producers also add text, graphics, and other design features to give the video a more professional appearance. In most cases, commercials and promotional videos will end with a graphic showing the firm name, location, contact information, and logo, but some videos will also include background music or sound effects. Off-site additions, particularly the graphics, constantly show the firm's contact information throughout the video and reinforce consumer knowledge of the practice. If a video includes a jingle or an original song, consumers are also more likely to remember the firm.
Because of its customization, on-site video production is more time-consuming and more expensive than off-site production, especially if actors and production crews are involved. Filming alone can take several hours, and editing can take even longer. However, with on-site production, you can film and produce exactly what you want and play an active role in crafting your message.
Off-site video production
The greatest advantage of off-site video production is the cost-effective nature of off-site video campaigns. They can be less expensive than their on-site counterparts, and can be just as effective. Off-site videos can be produced anywhere and anytime, without the need for an on-site visit, production crew, or actors. Off-site video production relies most heavily on stock footage and stock images purchased from a reputable database. These stock images offer a wide variety of scenes that may be difficult to recreate on-site. Off-site videos often use more text-based graphics throughout the video and use voiceovers for the audio. Consistent graphics and design should still appear throughout the video as they strengthen your brand in the minds of consumers.  However, unlike on-site videos, you will not be able to incorporate panoramic shots of your facilities or client testimonials.
If you are looking for a faster turnaround on a video project, off-site video is likely the better option. Stock footage usually requires less editing than raw footage taken on-site, and the editing process can be faster as a result. Otherwise, the editing process for off-site videos is similar to on-site videos because the producer must compile the footage, audio, and graphics into one video. As with on-site videos, graphics with the firm's contact information remains on-screen throughout the video, ensuring that potential customers are always aware of the firm's location, services, website, and phone number.
The main disadvantage of off-site production is that footage for the video is generic rather than custom-made, and it can be difficult to include staff, customers and facilities. Luckily, there are many resources and databases available to find the perfect clip and you can easily compare different types of footage.
Depending on your firm's needs, on-site video production may prove more useful, or off-site video production may generate similar results at a much lower cost. If you are interested in video production or have any questions about your advertising strategy, contact John Zaher at 1-866-PR4Lawyers or at johnzaher@theprmg.com.