MELVILLE, NEW YORK — On November 21, Russell I. Marnell, of the Marnell Law Group, received the Leadership in Law award in the category of Partner from Long Island Business News at a special ceremony at the Crest Hollow Country Club in Woodbury.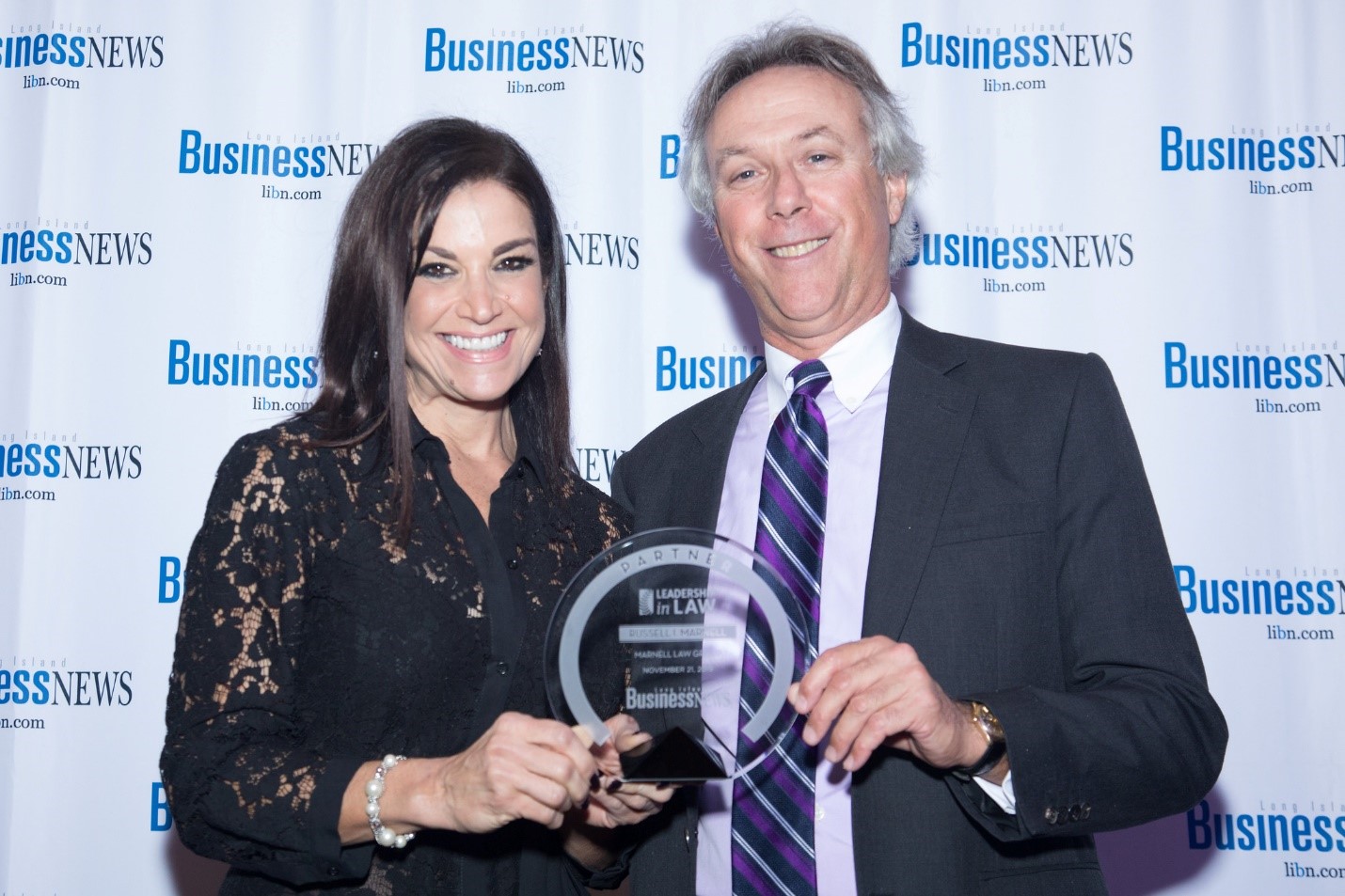 Russell I. Marnell (right) of the Marnell Law Group accepts the Long Island Business News Leadership in Law award from Alicia Jabbour (left) Associate Publisher, LIBN, at a special awards ceremony that was held at the Crest Hollow Country Club in Woodbury on November 21. (Photo by Judy Walker)
The Leadership in Law award recognizes attorneys who exemplify the following traits — experience, dedication, hard work, skill, tenacity, compassion and excellence — and is dedicated to those individuals whose leadership, both in the legal profession and in the community, has had a positive impact on Long Island. Recipients of this award demonstrate outstanding achievements, involvement in their profession, support of the community and mentoring.
Mr. Marnell concentrates his practice in complex custody, equitable distribution, child support and maintenance issues. As an attorney, he has brought more than 500 cases to trial. In addition to his work as an attorney, Mr. Marnell has passed the CPA exam and is and a frequent lecturer and contributing writer; his articles have appeared in Nassau Lawyer, Suffolk Lawyer, and the New York Law Journal, among others.
Mr. Marnell is admitted to the bars of New York, California, Nevada and Florida and before the United States Tax Court and U.S. District Court. He is a fellow of the American Academy of Matrimonial Lawyers and a member of the Matrimonial Committees of the Nassau and Suffolk County Bar Associations and the New York Family Law American Inns of Court. He has been named to the list of Metro New York Super Lawyers since 2014 in the practice area of Family Law. He is also AV-rated by Martindale-Hubbell — the highest rating an attorney can achieve.
He is very involved in the community, serving as a member and past president of the Kiwanis of the Bellmores, to which he provides pro bono legal services for its annual Strawberry Festival and Bellmore Street Fair. He is also a member of the East Meadow and Melville Chambers of Commerce, the Attorney Round Table (ART) of Long Island and the Attorney/Accounting Network Group.
Mr. Marnell has a B.S. degree from SUNY-Albany, an MBA from Hofstra University Business School and a J.D. from the Hofstra University School of Law.
For more information, call (516) 542-9000 or visit www.marnelllaw.com.
###
* Photo is attached.
About Marnell Law Group
Marnell Law Group, P.C. concentrates its practice in divorce, custody, and all areas of family law. Its attorneys offer complex family law counseling and provide expertise in matrimonial law requiring settlement or litigation. The firm services Nassau County, Suffolk County, Queens, Westchester, Manhattan and Brooklyn. For more information, call (516) 542-9000 or visit www.marnelllaw.com.